What to do when Google Takeout Failed Error?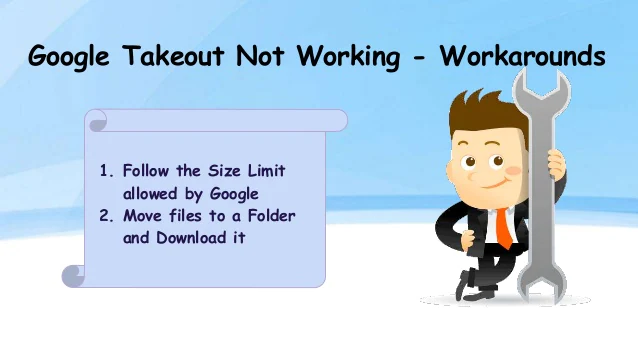 User Query,

"Using Google Takeout, It was easy to download the smaller 1 GB Files. But, I saved my entire Data in Zip Folder that file size is 15GB, However, I am not able to download Gmail Archive 16 GB data. Again and Again, I receive the message "Network Failed".

"In my Smartphone, contained 1500+ photos that I have captured last years. I want to save all photos as a backup, and I attempted so many times to download my data, in every attempt Google Takeout show "Web service failed to archive". Google Takeout did not allow to download the file."

"I only need phone numbers and emails, even I have successfully backup. But Google Takeout keeps failing me again and again. I was using chrome version 34.0.1847.131 on the windows system."
By "Google Data Liberation Front" offers Google Takeout Service is free, archiving data from several Google products like Contacts, Calendars, Gmail, and so on. All data is saved in .tgz or .zip file format, it depends on the user's need what file format they choose and saved in the desire location.
The user has to download the entire data with Google Takeout. But Google takeout have some boundaries users use Google Takeout but in some situation, archive process gets failed. Above all, we mentioned some users' queries and discuss 'Google Takeout Failed' errors.
Drawbacks of using Google Takeout Failed Error
Users use Gmail for Personal and Professional manners. Nowadays Gmail is trending and user's first choice to save their important mails, contacts, and other documents. After sometimes they need to back up their data in Zip file format. But the end of the result is user easily download small size data but if they have large file does not get downloaded. They face many failed errors.
Size Limit – Google sometimes shows that it was unable to create your archive file. If, the file size is too large users face a file size error.

Google Takeout network Issue – This error will show when your internet connectivity is lost and low.
Restart option is not available – If you lost your internet connection, there is no option to restart the archive process.
Download limitation – Google takeout provides to download of the archive data a limited number of times. If you attempt 5-6 times, the download link becomes outdated.
Ways to fix Google Takeout Failed Error
File Size limited that allows by Google – Google allows you to download archive file size is in 2 GB and also provides you to save 500 files/each folder. If your file size is exceeded then Google Drives show you failed error. However, you saved your data in zip file format, which are exceed the 2GB limitation, is better to divide multiple files of 2GB in each folder during the archive process. But, you use the .tgz file format to save your data, the file size will be increased to 50 GB. You don't need to save your data as multiple 2 GB files.
Save data in one folder – Another way to get out of this problem, you have to save all of the files in a folder that you download and then download that folder. The folder and contents will be contained in the zip file format. Except for Windows Vista, this approach works in Windows 10 and lower versions.
Final Words
We see all the above articles, users faced many problems when they download data with Google Takeout. Google takeout has some limitations and few situations where Google Takeout failed. We discuss all the reasons with the user's query.