Difference Between G Suite VS Office 365.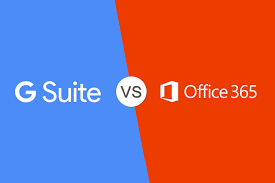 Your business email address is between G Suite and Office 365. Looking for the difference between G Suite vs Office 365? G Suite (formerly Google Apps) and Office 365 provide professional business email and productivity tools. Microsoft's office suite had defeated out competitors like WordPerfect Office and Lotus SmartSuite by the late 1990s and early 2000s. Then, in 2006, Google introduced Google Docs & Spreadsheets, a collaborative online word processing and spreadsheet suite that was later renamed as G Suite.
On the other hand, Microsoft has moved licensed from Office software to Office 365, a subscription-based service with regular updates and new features.
The purpose of this article is to help you understand the difference between G suite vs office 365.
What is G suite and office 365?
After creating a website, many other users get a professional business email address.
Unlike your @gmail.com or @outlook.com email, A professional business email address is branded with your company name: name@yourbusiness.com.
While most WordPress hosts provide a free business email address, G Suite and Office 365 provide more dependable email, file storage, calendar, notes, and video conferencing tools. Using cloud efficiency suites allows you to saves money on software licenses, installations, IT department, and more. Your files are stored in the cloud, make easy to access file from any anywhere using any device. This is great if you run a remote business or travel while blogging.
Best productivity Suite?
| | |
| --- | --- |
| G Suite | Office 365 |
| G Suite is web-based | Office 365 is based on desktop software |
|  Work on offline | Offers web-based (less powerful) versions of its apps. |
| it works in most browsers browsers on any OS, plus Google offers apps for Android and iOS | Microsoft offers Office apps for Windows, macOS, iOS, and Android, as well as web-based apps |
G Suite and Office 365 more similar. Both are subscription-based, charging businesses per-person monthly fees based on user needs. Their compatibility is excellent. Each has its own cloud storage space. However, the individual applications differ from one suite to the other, as do the management tools used to manage them in a business setting. Furthermore, both suites include a lots of additional tools. As a result, deciding which suite is best for your company can be extremely difficult.
Pricing: Subscriptions to G Suite and Office 365 are compared.
When you're first going to start out, pricing is a critical consideration. You want to select a solution that is within your budget. Both suites use several online apps individuals in intance Google Docs, Sheets, and Slides, as well as Microsoft Word Online, Excel Online, and PowerPoint Online, but businesses should recognize the paid G Suite and Office 365 subscriptions for required security and management features. So, To compare plans and pricing, first for G Suite and then for Office 365.
G Suite pricing
Google Suite have three versions: Basic, Business and Enterprise.
Basic – $5 per user per month with 30 GB cloud storage.
Business – $10 per user per month with unlimited cloud storage.
Enterprise – $29 per user per month with unlimited storage.
Note Unlimited storage is available for business and enterprise plans only if you have more than 5 users; otherwise, each user has a 1 TB storage limit.
Office 365 pricing
For medium and small businesses, Office 365 offers three different pricing plans.
Essentials – $6 per month per user
Business – $10 per month per user
Premium – $15 per month per user
The pricing plans with an annual commitment are listed below.
Essentials – $5 per month per user
Business – $8.25 per month per user
Premium – $12.50 per month per user
Enterprise E1 – $8 per user per month
ProPlus – $12 per user per month
Enterprise E3 – $20 per user per month
Enterprise E5 – $35 per user per month
Note Every plan includes 1 TB of cloud storage and 50 GB of email storage.
Which suites is low cost?
In Intance, G Suite offers unlimited cloud storage For more than 5 users. On the other hand, All Office 365 plans, including the business essentials plan, include 1 TB of cloud storage. This is a large amount of storage, but it is not infinite. Secondly, The ability to make free local calls using Google Hangouts and Google Voice gives G Suite an advantage. Office 365 employs Skype for Business, which is available on Business Premium and higher plans. To make local calls, you will also need to purchase Skype credits.
G Suite vs Office 365 Feature Comparison
Both office suites have a lots of features that will help you run your business more efficiently. Let's take a look at those features and see how they compare to Office 365 and G Suite.
G Suite – Gmail
G Suite allows you to create email accounts by registering a domain name or using an existing domain name. Each user can also have up to 30 email ids.
G Suite uses the same technology as Gmail, so your business email address will look and feel the same. Your email would also work with mobile Gmail apps.
If you prefer a desktop mail client, So you can use Thunderbird or even Microsoft Outlook.
Office 365 – Outlook
You can also create professional email addresses with Office 365. Each user gets 400 email accounts.
It uses Outlook for email, which has a web version, a desktop version, and mobile apps. Mobile and web apps are lacking, but the desktop client is widely used.
Your Office 365 email address can be used with other mail clients, including Gmail.
Cloud storage
File storage is a major benefit of cloud productivity suites. You can store all your files in the cloud and access them from any device, anywhere.
Easy file sharing with G Suite and Office 365.
Google Drive Cloud Storage – G Suite
With the basic plan, you get 30 GB of cloud storage for each user, unlimited storage with the business and enterprise plans, and 1 TB of storage for each user if you have less than 5 users on the business or enterprise plan.
It stores and manages files on Google Drive. It includes apps that you can install on your mobile devices, tablets, or desktop computer. This enables you to easily access and even make files stored in the Drive available offline.
Google Drive also makes it extremely simple to share files with coworkers or anyone else. You can share files via email, allow others to view or edit them, or even allow others to download them.
It has a far superior search feature for finding files, shared folders, team drive (a Google Drive shared with all users on your account), and a more user-friendly interface.
Many WordPress backup plugins also allow you to store backups of your website on Google Drive. If you have unlimited storage, you can store all of your website backups safely in the cloud.
OneDrive Cloud Storage – Office 365
All Office 365 plans include 1 TB of cloud storage for each user. This is a large amount of storage, but it is not limitless. Each user also receives 50 GB of email storage, which is in addition to the drive storage limit.
It stores and manages files on OneDrive, which has desktop, mobile, and web apps. OneDrive, like Google Drive, allows you to sync files and easily share them.
If you have a Windows 10 or Windows 8 PC, OneDrive is built into those operating systems. This makes saving and sharing files to the cloud even easier. You can also open files from OneDrive directly in Microsoft Office and other default apps on your computer.
Apps in Office 365 vs G suite
Office 365 and G Suite Both include a lot of apps creating documents, spreadsheets, presentations, and other types of files. You can also edit files directly from your cloud storage in those apps.
Apps in G suite
G Suite includes Gmail, Google Docs, Sheets, and Slides, Calendar, Keep, Hangouts, and Photos.
All apps work best in a desktop browser. Google has Android and iOS apps for each of them. If you already have an Android phone, their mobile versions may be pre-installed.
Google has offline versions of some browser apps. Their offline editing capabilities are limited, and you must make each file available individually.
G Suite doesn't include a complete desktop app for your computer. However, their web apps are quite feature-rich and will usually suffice.
G Suite apps are better suited for remote teams or organizations that store all data in the cloud.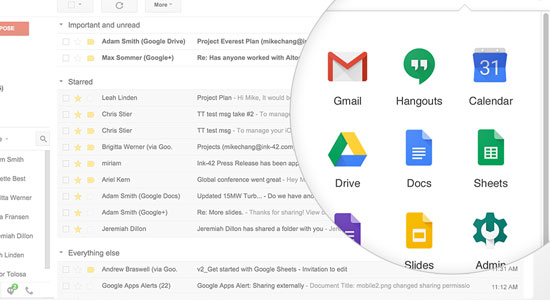 Apps In Office 365
A Microsoft Office 365 business subscription gives you access to Word, Excel, PowerPoint, Outlook, and OneNote. These apps are still the most feature-rich and complete office suite available for desktop computers.
Like Google Docs, Office 365 offers web and mobile versions of these apps, but they are limited. No web or mobile app has been able to match Office 365's desktop apps.
These apps are great for businesses using Windows PCs and are a deciding factor in choosing a platform.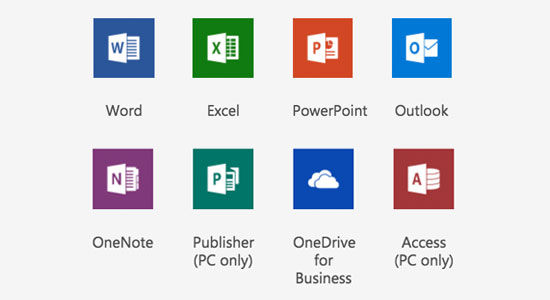 G Suite vs. Office 365 security
Small businesses using cloud applications are concerned about security. Let's see how G Suite and Office 365 protect your data.
Security feature in G Suite
Firstly, G Suite is built on Google's cloud infrastructure and uses Google's security protocols. This includes automatic detection of phishing and hacking attempts.
Google allows administrators to set policies to prevent unauthorized access to their admin console or user accounts. Allow all users to use two-factor verification.
Also, you can set keywords to block any outgoing communication. G Suite scans all documents and attachments for spam, viruses, and malware.
Security Feature in Office 365
Office 365 allows you to allow MFA (Multiple Factor Authentication ) for all user passwords. It also uses AI tools to learn each user's work habits to detect suspicious activity and flag it.
It protects against data theft and leaks by preventing data loss. Your company's device management tool can also restrict user access to company-issued devices.
Office 365 also scans all documents, emails, and attachments for spam, viruses, and malware.
Conclusion
They're both great cloud productivity suites. Both allow your company to collaborate and share files online. Also, Both allow you to work remotely using various devices.
But We think G Suite is a better option for small businesses. It's much easier to use, and you probably already use many of their apps like Gmail, Calendar, Photos, Google Docs, etc.
G Suite also has a low price. With their business and enterprise plans, you get unlimited storage.
A much easier admin panel with lots of documentation is G Suite. This alone will save time when adding employees and managing accounts.
Office 365 is best suited for businesses where all employees use Windows PCs in an office setting. Their desktop apps are excellent, especially if you use Windows. If you want to switch to Office 365, take a look at the G Suite to Office 365 migration steps.
Finally, it comes down to similarity. You will love G Suite if you use Gmail for personal email. If you use Outlook, you'll love Office 365.
We hope this article helped you compare Google G Suite vs Office 365