Complete Windows 11 Overview : Features, Requirements, Pricing & etc.
October 28th, 2021 ~ News ~ 6 Minutes Reading
Hey there, today on this blog I will describe Windows 11 overview, its features, release date, and other things. So, stay tuned with this article…
Microsoft has made Windows 11 available as a free update for anyone who is currently using Windows 10, and on this site, you will get the best solutions to overcome your problems.
We cover all of your burning questions about Windows 11 and the desperation of Windows 11 overview, including the price and release date, as well as how to download it and which Windows 11 features are the most useful.
Interested in trying it out? Here's how to download and install Windows 11. If you run into any challenges with Windows 11, be sure to consult our guide on how to fix common Windows 11 issues.
Our Windows 11 review revealed many improvements, including a more modern style, greater security, and innovative methods to search and download software.
It's an intriguing OS so far, but there's still room for development. If you already have Windows 10, you can get a free update to Windows 11 if your computer fulfills Microsoft's tight basic requirements for future safety.
Remember that a feature called TPM is still causing some uncertainty about these system prerequisites (Trusted Platform Module). Microsoft appears unwilling to budge on its requirement that your machine has a TPM 2.0 in order to run a fully supported edition of the new operating system.
In this article, we will examine the new features of Windows 11, as well as the advantages of Windows 11 over Windows 10 and all the Windows 11 overview.
Windows 11's Release Date
Microsoft released Windows 11 for free on October 5, while some users were allowed to download it on October 4.
Microsoft will begin pushing out the upgrade to compatible devices in the following months. Several laptop and PC manufacturers have announced that their new models will include Windows 11. Included are the new Surface Pro 8, Surface Go 3, and Surface Laptop Studio devices announced alongside Windows 11.
There will also be an annual upgrade to the new OS, similar to what Apple has done with its MAC OS system.
It has been established that Microsoft's application for checking if your desktop or laptop can operate Windows 11 is flawed, reporting incorrect results for computers that can run the upgrade.
System Requirements
Which machines are qualified for Windows 11 which has been hotly debated? Others merely question if they need to update their PC or laptop shortly, regardless of TPM requirements. Microsoft has released the following requirements for the update:
Processor: 1 gigahertz (GHz) or faster with at least two cores on a compatible 64-bit processor or SoC
Storage: 64GB
RAM: 4GB
System Firmware: UEFI, Secure Boot capable
Graphics Card: DirectX 12 or later with WDDM 2.0 driver
TPM: Trusted Platform Module 2.0
Display: 720p, 8-bit per color channel, at least 9-inch diagonal
Microsoft Account and Online connection: Windows 11 Home needs an established internet connection and an MS Account to perform the setup process or to switch devices out of S-mode.
Windows 11 pricing
The Home edition of Windows 11 is a free update for existing Windows users. However, you must have an internet connection to download, install, and activate it. Additionally, you must have a Microsoft account to install or upgrade your PC or tablet.
Because Windows 11 will also be pre-installed for free on new desktops and laptops, you should double-check this before purchasing to ensure that this is the case. In some situations, new laptops and desktop computers may still be sold with Windows 10. And you will need to perform the free update yourself.
Windows 11 license keys for new installations will most certainly be available for purchase in 2022. But we don't yet know how much they will cost.
There's a chance it'll cost more than Windows 10 licences were initially sold for: Windows 10 Basic costs £119.99/$139 and Windows 10 Pro costs £219.99/$199.99. So, we may expect costs for Windows 11 that are similar to those for Windows 10.
New Features on Windows 11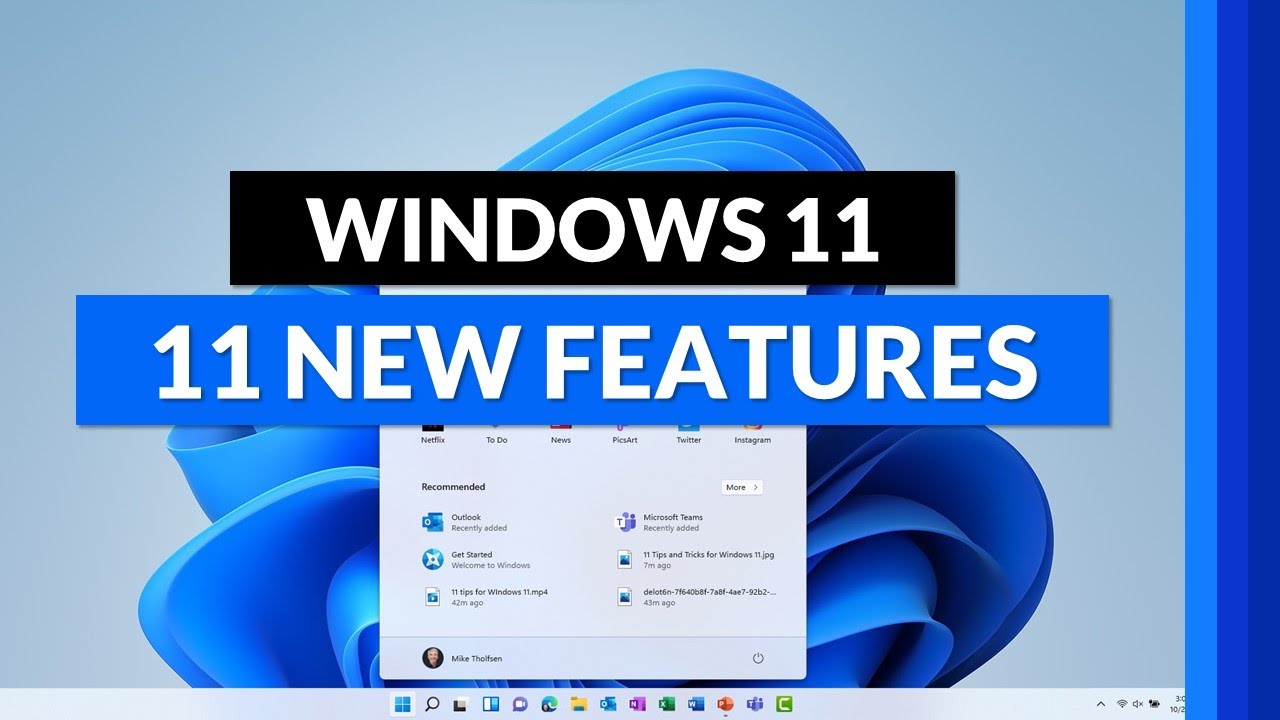 A new interface that is more Mac-like in appearance. Windows 11 has a simple style with curved edges and pastel colors, as well as a Start menu and Taskbar that is cantered on the screen.
Apps for Android. There'll be an Amazon Appstore for Android applications within the redesigned Microsoft Store. With a Samsung Galaxy phone, there are a few ways to get Android apps on Windows 10. However, this makes them indigenous. (Note that Android apps will not be accessible until Windows 11 launches.)
Widgets Although widgets have been available for a while (remember desktop gadgets in Windows Vista?). Users can now use them straight from the Taskbar and customize them to show whatever they want.
Microsoft Teams connectivity is available. Teams are receiving a makeover and are now tied to the Windows 11 Taskbar, enabling it quicker to reach (and making it more similar to Apple's FaceTime) than it was previously. Teams will be accessible from any platform, including Windows, Mac, Android, and iOS.
Xbox technology to make gaming more enjoyable. Some capabilities seen in Xbox consoles, such as Auto HDR and Direct Storage, will add to Windows 11. Allowing you to enjoy better gaming on your Windows PC.
Improved vDI support Windows 11 will allow you to switch between different virtual pcs for personal, work, education, or gaming usage. Every virtual machine has its wallpaper.
Improved productivity and transfer from screen to the laptop. Slide Teams and Snap Setups are new capabilities in the new OS that allow you to quickly transition between applications in the Taskbar. They also make it easier to plug and unplug a screen without deleting your open Windows.
Difference Between Dev Channel and Beta Channel
Microsoft described the Dev Channel as "for highly technical users" with "rough surfaces and low sustainability". It serves as a beta release channel for new features that have not been properly tested before being published.
The Beta Channel, on the other hand, produces "validated" releases and is "perfect for beta testers" who would like to try Windows 11 with a reduced risk of problems.
Microsoft published the Windows 11 Insiders Preview solely through the Windows Insider Dev Channel in June 2021. Once Windows 11 Beta is released on July 29. Those who were interested in testing the more dependable version were given access to the more reliable version.
So, here is the complete Windows 11 overview… I hope you enjoy it…