Split vCard into Multiple Contacts For Free – A Quick Solution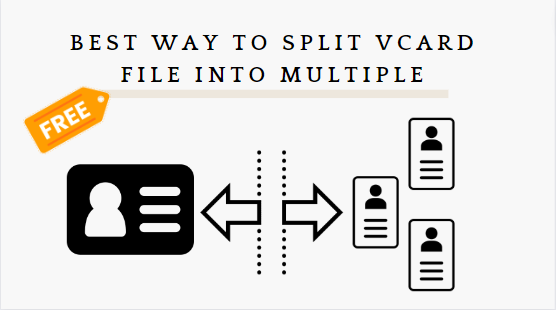 If you are searching for the best way to split vCard into multiple contacts for free, you are in the right place. Mainly, our focus will be centered around the free alternative methods where the manual approach fails. In short, accessible and expert VCF splitter. 
Generally, VCF (vCard) is similar to a digital business card. Moreover, it is a handy file format used to store your contact info, like your name, phone number, email, address, etc. Furthermore, this contact file can be effortlessly shared via email mode without any data loss. Mostly, you have seen it with a ".vcf" extension.
Now, why are these vCard files so important, a reasonable question? Well, this can be an ideal deal for personal, business, and professional reasons. In like fashion, when you have a large contact file, then to split VCF file to multiple contacts can be a nifty option. 
User's Query

"I work as an IT admin in a company. My major responsibility is to help my colleagues with their computer problems. Recently, a coworker came to me with a tricky situation. They have a large contact file called VCF and want to split vCard into multiple contacts, also known as a vCard. I attempted to do this manually, but it's proving to be a real challenge because there are about a thousand individual contact files! I could really use some advice or a recommendation for a vCard splitter tech that can automate this task. Thank you so much for the assistance in advance!"
Simple and Free Method to Split VCF File into Individual Contacts
Make sure to meticulously follow the steps of the accessible VCF file splitter given below to see the imminent results. However, if you miss any step in between, start from the beginning. Now, split vCard into multiple for free.
Open the "

Contacts

" folder by going to

C:\Users\%username%\Contacts

. Then, click on "

Import

."

Next, in the '

Import to Windows Contact

' dialogue box, choose VCF format and press "

Import

" again.

Locate your .vcf file, select it, and tap "

OK

" to split multiple VCF contact files.

Make changes if needed under the

Properties window

of each contact. After that, hit on "

OK

."

To save all contacts in a single VCF file:

Go to the "

Export

" tab in Windows Contacts.

Hold

Ctrl

and select the contacts.

Choose "

vCards

" in the "

Export Windows Contacts

" box. Henceforth, click "

Export

."

Select the save folder and click "

OK

."

Contacts will be saved as

individual .vcf

files in the chosen folder.
Drawback of Readily Available and Free Method to Split vCard into Multiple Files
The manual and free approach has its advantages, but it also comes with limitations to split VCF file to multiple contacts:
It's entirely self-reliant, but there are drawbacks when dividing VCF files among various contacts.
This method is quite time-consuming and can be perplexing.
There's a significant risk of losing data.
It demands technical expertise.

Data integrity isn't assured.
Alternative Feature-Rich Technique to Split VCF File into Individual Contacts
vCard File Splitter tool is an effective utility to split vCard into multiple contacts quickly and accurately. With this intuitive application, you can divide contacts without any data loss. It is built to offer proficiency in workflow increasing your productivity and required time.
Also, with its comprehensive and inclusive features, you can separate numerous VCF files. An expert substitute to free technique to split VCF file to multiple contacts. Let's witness a few of the following: 
Two easy ways to import: add a

single file

or an

entire folder

.

Compatible with all vCard versions:

2.1

,

3.0

, and

4.0

.

Works seamlessly on Windows versions

below Windows 10

.

A reliable program that keeps your contacts safe.

Gives you a preview before splitting any files.
Steps to Split VCF into Multiple Files with a Tool-Centric Approach
Step 1. Download and Install the software to split vCard into multiple contacts.
Step 2. Add vCard files by clicking "Add File."
Step 3. Export selected vCard files by hitting "Export Selected."
Step 4. Begin splitting by choosing the "Split vCard" tab.
Step 5. Locate the destination by clicking "Browse," then start the export by selecting "Export."
Free Method v/s Automated Program to Split vCard into Multiple Contacts
The following table compares the free method and a professional wizard for split VCF file into individual contacts:
| | | |
| --- | --- | --- |
| Aspect | Free Method | Automated Program |
| Cost | Free | May require a purchase or subscription |
| User-Friendliness | May require manual effort and technical knowledge | Generally user-friendly with a graphical interface |
| Splitting Accuracy | Manual splitting may result in human errors | Typically accurate and reliable |
| Speed | Slower, especially for large VCF files | Faster, especially for large VCF files |
| Customization Options | Limited or none | Offers various customization options |
| Handling Large Files | May struggle with large VCF files | Handles large files efficiently |
| Batch Processing | Time-consuming to split vCard into multiple for free | Can process multiple files in one go |
| Data Loss Risk | Risk of data loss if not done carefully | Minimizes the risk of data loss |
| Platform Availability | May depend on the specific tools or methods used | Available for various platforms (Windows, macOS, Linux) |
| Support & Updates | Limited or community-based support | Typically comes with support and updates |
| Learning Curve | May require some learning and practice | Generally easy to use with tutorials/documentation |
| Additional Features | Few or none | Offers additional features like merging, deduplication, etc. |
| Security and Privacy | Privacy concerns if using online tools | Offers better control over data privacy |
Conclusion
We've gone through two methods as the best way to split vCard into multiple contacts: manual (free) and professional VCF split wizard. The manual method is free and readily available but has some limitations, so we recommend using secure, expert-tested software for efficient vCard splitting. Apart from this, you can try demo versions to test its working performance and efficiency.
Frequently Asked Questions (FAQs)
Q1. Does this VCF Contact splitter keep all contact data?
   – Definitely, it keeps all contact information like names, addresses, email addresses, phone numbers, contact pictures, and descriptions in the resulting file.
Q2. Does this application work with changed or edited VCF files?
   – Absolutely, it works with changed or edited VCF files, which is good for files without "Begin vCard" and "End vCard" labels.
Q3. Can I split vCard into Multiple contact files together with this utility?
   – Yes, you can split multiple vCard files in bulk using the "Add Folder" choice of this vCard splitter to handle your contacts effectively.
Q4. Can I see the contact information with this program?
   – For Sure, you can view contact details using this VCF file splitter program to make well-thought-out decisions to split VCF into multiple files.