How to Repair a Damaged or Corrupted Word File?
If you have a word document that is damaged and corrupt and you are looking for a manual way to repair your document, look no further. Therefore, this blog will teach you how to repair your corrupted and damaged word file.
It's the time before the document is due to be submitted. You're almost certain to put the final work on it. When you try to open the Word file, Word informs you that the document could not be opened. Your heart dropped. And to make matters painful, the record was either never saved or was accidentally deleted.
Never get too worked up about it! Attempt all of the options listed in our blog entry on How to repair a damaged or corrupt Word file. A lot of times, the suggestions there will help you fix your Word file. Aaah, you've tried everything, haven't you? You were unable to locate your file? Or did you find it, but it doesn't open? In this area, we can also help. You should be able to retrieve an unsaved, removed, or corrupted Word document with our suggestions.
In Microsoft Word, you can Recover Damaged Word Files.
When attempting to repair a corrupted word file from under the Word application, there are many options to consider. Even though the speed for these techniques is not perfect, it is recommended that first, you try. They are absolutely free of cost, and if they are successful in recovering the file, it will be immediately available in Word, ready to be saved.
We'll likely that we'll see the following error message if we open a document for the first time and discover it's corrupt: During the processing of YourDocument.docx, Word discovered some unreadable content. Interested in regaining access to the contents of this file?

The next step is apparent. Tap Yes. That's good if the corrupted file opens and can be used. A failure to open the file will result in a message from Word. There will be a list of ideas. Follow them.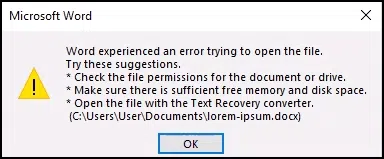 Open and Repair Corrupted Word File
The option to Open and Fix is also set up in Word itself.
Open the Word file and click on the Open button. Then move to the location where the corrupted Word file has been saved to your computer.
Make sure the file is noticed by selecting it.
Choose the down arrow next to the word Open.
Choose Open and Rebuild from the drop-down menu.This might take some time for the information to be processed. However, you can rebuild the corrupted document or you will receive an error message.
Word Text corrupted file
The request that Word can recover text from any file is bold, but Microsoft used that name for this process.
Select Open in Word. Then find the corrupted Word file.
Make the file a highlight.
Select the arrow beside All Files (*.*).
Choose Text from Any File (*.*).
Open.

MS file word in a few mintues. Sometimes it recovers the Word document's text or displays the error message "Word found unreadable content in somefilename.tmp". Do you want to recover the document's content? If you trust the reference, click yes.

Depending on the outcome, the text will either be recovered or we will receive the standard error message.
Conclusion
In conclusion, Damaged and corrupted word files were discussed in greater detail in the preceding section. It is a common problem that many users who work with Microsoft Word have to deal with. This blog will walk you through the process of manually fixing your file. MS Word is used by everyone, whether they work in a professional or personal capacity.