How to Import Lotus Notes NSF file to Outlook?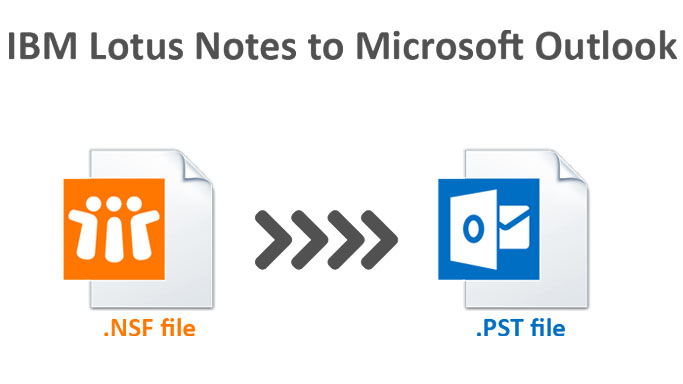 Summary: An in-depth guide to the manual approach to migrate lotus notes to outlook that is available for free. You will understand how to manually convert emails, attachments, and other important data stored in the .nsf format into the.pst format, without the use of any NSF to PST Converter software, in this blog.
Two email clients that are widely used by professionals to communicate all over the world are Lotus Notes from IBN and Outlook from Microsoft. Whereas, Lotus Notes stores email in .nsf file format, and outlook stores our data in .pst file format. Many users work with Outlook applications because of their cost-effectiveness, capability, and usability with the MS Office suite. Several ways to importing NSF to MS Outlook various versions like Outlook 2019/2016/2013. If you want to move NSF to PST? So, here we will explain the various steps to migrate lotus notes to outlook.
There are two stages to convert HCL notes NSF file to PST. The first stage involves exporting the HCL notes NSF files to CSV format, and the second stage involves importing the contents of the CSV file into Microsoft Outlook. The following is the step-by-step procedure for converting NSF to PST:
Stage 1: Move NSF file to CSV file format
Launch HCL Notes application. Then go File > Open > HCL Notes.
Once the NSF file gets opened, which file you export select NSF file.

On the menu, press the file button, and then the export tab.

Now, in the Export window, add the file name, file type, and location where you save your NSF file. Then click the Export tab.

Select the options from the How Much to Export, Export Character Set, and Detail to incorporate drop-down menu in the following CSV (comma Separate value) Export window. To proceed, press OK.

The conversion of NSF files from Lotus Notes to CSV format has been completed.
Stage 2: Import CSV file to Outlook
The following step is to import the CSV file that was created in the previous step into your Outlook (2019, 2016 or, 2013). Follow these steps:
Open MS Outlook application. Then go to File > open > import/export.

Import and Export wizard will open, choosing Import from another program or file, press Next.

Choose CSV Option, and hit Next tab.

Select a CSV file to import. Choose the options for duplicate items and then press the Next.

Choose a location to store the NSF file from the CSV file. Hit Next tab for continue.

Finally, after completing the process click the Finish tab.
Restriction of the Manual method – migrate lotus notes to outlook
This method is convenient, but it only allows for one NSF file at a time to be imported using the manual method. The import will be limited to a single PST mailbox folder, which will be created during the process. Manually transferring data from a Lotus Notes NSF file to a CSV file is a risky bet, and there is currently no direct way to do so.
Conclusion
In conclusion, all the above we explain every possible methods to migrate lotus notes to outlook. Lotus Notes email client is losing popularity for a number of reasons, and users are migrating to Outlook. But manually migrating data from one email to another can be difficult and time-consuming.