Merge vCard Files into One VCF Contact For Free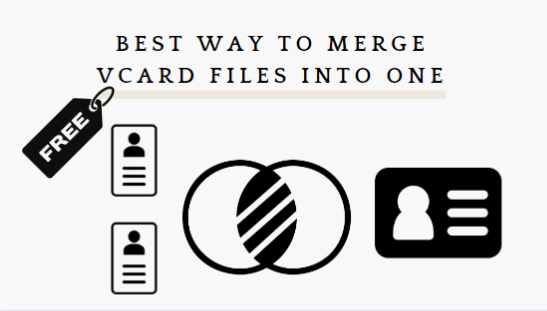 If you are seeking the best and free way to merge vCard files into one, and not getting the desired results. Don't worry, we have got your back in accomplishing the goal. Moreover, in this write-up, we will focus on the readily available (free) and professional ways to merge two or multiple VCF files into one. 
vCard is a way to share contact info in a special format with a ".vcf" file extension. It holds things like email, name, phone number, and address. You can get to it easily and send it via email without messing up. People really need vCards for personal, work, and professional stuff. So, users want to organize their vCard files to work better and tidy up their space. 
User-1: "I want to put my VCF files from my computer into Gmail, but Gmail can't do many at once. How can I mix them into one VCF file without losing stuff?"
User-2: "I have 550 VCF files on my PC and want to make one big vCard file. It's easier to share that way. Can someone tell me how to merge vCard files into one?"
Now, let's see why users combine multiple VCF files into one, there are many reasons.
Reasons to Merge Multiple VCF Files into One
As you know, vCards are essential for personal, business, and professional use. So, it's important to handle your vCard/VCF files to prevent issues. Here are a few reasons to merge multiple vCard files into one for free:
You can easily view VCF or vCard files in text editors like WordPad and Notepad.

Combining multiple vcf files makes sharing information more efficient and faster.

Merging your VCF files into one declutters your space and improves productivity.

Managing a single file for multiple vCards is more convenient.
These reasons suggest that you should consider using a single vCard/VCF file instead of managing multiple ones. Let's move on to learn how to merge them.
#Solution 1: Free and Easily Accessible Way to Merge vCard Files into One VCF File Online
Utilize this method to combine VCF files into one contact file with the apt efficiency and effectiveness in your workflow. A substitute to the automated method. With that being said, let's get into the best way to merge multiple vCard files into one manually. 
Put all your

vCard

files in a

folder

.

Press

Windows+R

and type "

cmd

" in the box that appears.

The

Windows command prompt

will appear.

Open the folder you made in

step 1

.

Type this command: "

copy *.vcf all.vcf

"

All your files will merge into a single vCard file.
Following the above steps meticulously to merge vCard files into one. However, using the above method has some associated limitations to it. In the next section, you will come to know it better. 
Drawbacks in the Free Solution to Combine Multiple VCF Files into One
Merge multiple VCF  into one free manually can have several drawbacks, including:
Error-prone

Time-consuming

Lack of version control

Scalability issues

Complex metadata handling

Limited automation

Version incompatibilities

Data loss risk

Data validation challenges

Lack of reproducibility
Now, considering the above cons of the readily available method. We have to look for some other alternative which is given in the upcoming path. 
#Solution 2: Merge vCard Files into One Using a Professional Solution
vCard Merge software is the top-notch software to merge multiple vcf files into one. Further, it is highly efficient and user-friendly when it comes to interface. As a result, with a self-explanatory and easy-to-use interface, you will not need any technical expertise to operate. An absolute replacement to the free approach for merging .vcf files.  
Follow the alternative steps given below to combine multiple vCards into one:
Step 1. Begin by downloading and launching the merge application.
Step 2. Import VCF files using either the "Add File" or "Add Folder" option.
Step 3. Customize your export preferences by selecting "Export" or "Export Selected."
Step 4. Choose the "Merge vCard" option to combine your VCF files.
Step 5. Locate your preferred save location by clicking "Browse," then finalize the process by selecting "Export."
Comparison Table on Free and Professional Ways to Merge Multiple VCF Files into One
Given below is a comparison table that outlines the free and professional ways to merge vCard files into one:
| | | |
| --- | --- | --- |
| Feature | Free Methods | Professional Methods |
| Cost | No Price | May require a paid software or service |
| Ease of Use | May involve manual steps and technical know-how | Usually user-friendly with intuitive interfaces |
| Supported Platforms | Varies by method (Windows, macOS, Linux) | Typically available for multiple platforms |
| File Compatibility | Limited support for large or complex VCF files | Supports various VCF formats and file sizes |
| Merging Options | Basic merging of VCF files | Advanced merging, sorting, and filtering options |
| Batch Processing | Limited or manual batch processing | Efficient batch processing capabilities |
| Data Deduplication | Limited deduplication features | Advanced deduplication and conflict resolution |
| Data Integrity | Risk of data loss if not careful | Data integrity preservation |
| Backup/Undo | Limited or no backup/undo options to merge vCard files into one for free | Built-in backup and undo functionalities |
| Support and Updates | Limited or community support | Professional support and regular updates |
| Privacy and Security | Potential privacy concerns with online tools | Better privacy and security with paid tools |
| Customization and Features | Basic features and customization options | Rich set of features, customizability |
| Speed and Performance | May be slower, especially for large files | Faster processing, optimized performance |
| Licensing Restrictions | Open-source or freeware may have usage limitations | No usage restrictions in paid software |
Conclusion
In this write-up, we have talked about the different ways to merge vCard files into one for free. Evidently, there are two ways to combine VCF files i.e. manual and professional. Though the manual and free way method is easily available but not reliable and could lead to data loss. In such a case, relying on the professional method is more trustworthy and time-saving. As a result, your go-to solution to combine multiple vCard files into one would be an automated technique. 
Frequently Asked Questions
Q1: Can I choose specific VCF files with this wizard?
A1: Absolutely, you can handpick vCard contacts easily, especially helpful for large files.
Q2: Can I preview contacts with this software?
A2: Yes, you can preview contact details like names, addresses, emails, images, and more before making your choice.
Q3: What Windows versions does this program support?
A3: This application works on Windows 11 (64-bit), Windows 7 (64 & 32-bit), and older versions.
Q4: Can I use this for modified VCF files?
A4: Yes, this tool is compatible with edited vCards, even those lacking "Begin vCard" and "End vCard" tags.
Q5: What are the benefits to merge vCard files into one?
A5: There are several advantages of using the free and expert way to combine multiple files into one:
Improved Data Management

Streamlined Analysis

Enhanced Comparisons

Simplified Downstream Analysis

Reduced Storage Overhead

Minimized Data Transfer

Facilitated Data Sharing

Consistent Reference Information

Faster Processing

Simpler Data Backup