Learn How to Backup Hotmail Emails: Free Solutions for Email Preservation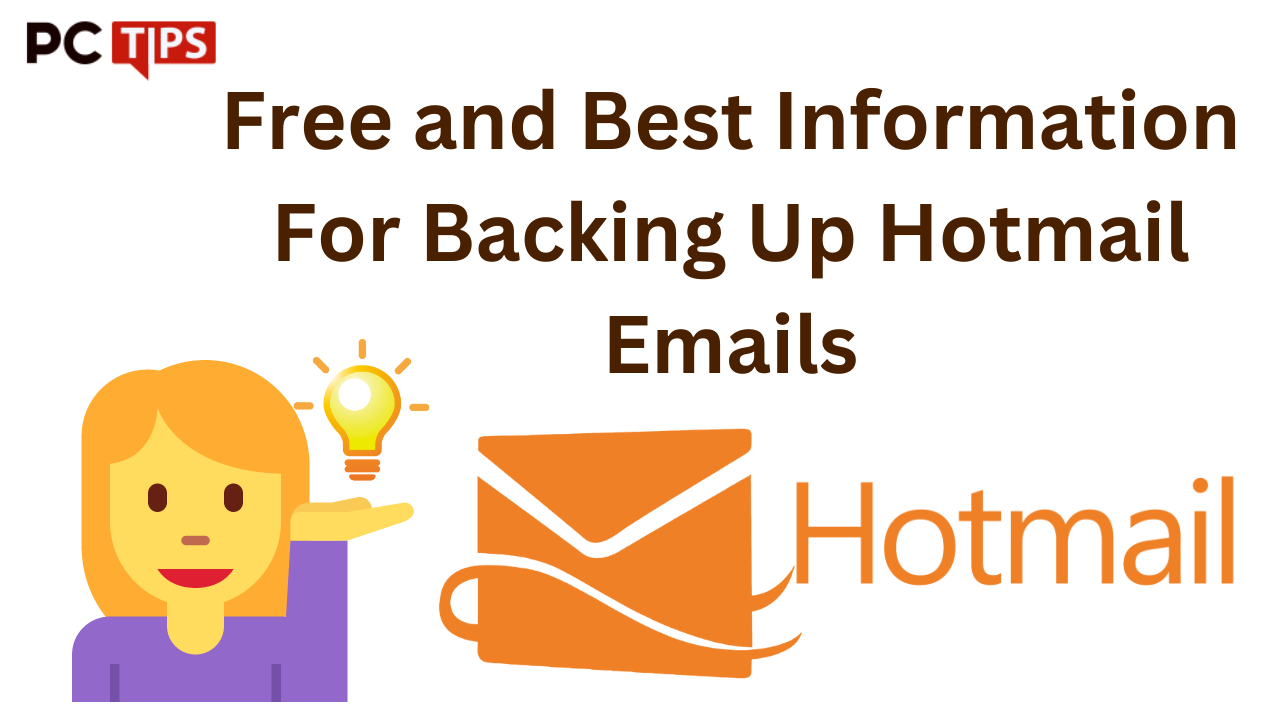 In Overview: In today's digital age, email has become an essential component of our everyday lives. It serves as a communication device, record-keeping system, and storehouse of important information. If you're using Hotmail (also known as Hotmail.com) as your email service, it's important to have reliable backup hotmail emails to protect your valuable data.
Table Of Contents:
So today we will give you some tips through this small guide. Through this, you will be able to take backups of Hotmail emails in multiple file formats without any problem. So, without wasting any time, let us move further below and tell you about the reasons why you want to make a backup plan.
Hotmail (Outlook.com) – Short Overview
Hotmail, today, is known as Outlook.com. It is a type of free web-based email service provided by Microsoft. It was one of the world's first webmail services, created in 1996 by Sabir Bhatia and Jack Smith. Hotmail was purchased by Microsoft in 1997 and has undergone several rebrandings and feature improvements since then.
In May 2007, the service was relaunched as Windows Live Hotmail as part of the Windows Live suite of products. It was renamed Hotmail in October 2011 and completely replaced by Outlook in February 2013, which shares the same branding as the Microsoft Outlook program that is available through a Microsoft 365 (previously Microsoft Office) subscription.
Outlook is available with any Microsoft account with the domains @outlook.com, @hotmail.com, @msn.com,[a] as well as @live.com and @passport.com (which are no longer available). Uses up.
Now, let's move on to the bottom and start knowing all the reasons why users are creating Outlook.com backups.
Why Do Users Want to Backup Hotmail Emails?
There are lots of reasons behind this task. So, we are going to mention some possible causes of transferring Hitmail data into another format:
Security: Due to the possibility of cyber-attacks, storing your email on the Internet may not be the best option. If you want to keep your emails safe, back them up on your PC/hard drive. This will protect your data from potential cyber threats.
Accessibility: While emails are designed for online use, you can retrieve them offline by saving them on your computer. You can access your email from anywhere in the world, even if you are not connected to the Internet.
Storage: Every email service has a certain amount of storage; If you exceed this, you will be unable to receive or send messages through your account. You can avoid this problem by backing up your emails on your computer. Additionally, a server may erase your old communications to free up space, so storing them is a great way to keep them safe.
Control: When backing up your Hotmail emails, you can categorize them, organize them into categories, and know where your important emails are. By saving your messages to your computer or hard disk, you can personalize your Hotmail email experience.
You have learned some important things related to this task by reading above. So now the time has come for us to find solutions and move forward. So, below we are going to tell you some steps through which you can create a backup of Hotmail mailbox data very easily. Let's start knowing.
Backup Hotmail Emails Using Free Manual Methods
In the manual method, you can see that multiple types of methods can help you create backup emails from a Hotmail account. So, in the section below, we have told you both types of methods.
Method 1: Backup Hotmail Data as EML Format
EML or Election Mail is a type of file format that enables you to save your email data in an Internet message format. Microsoft created this file format to give users access to save their emails and Internet data on their computers. So to save Hotmail mailbox data in the mail, follow the steps given below:
Open the "Outlook.com (Hotmail)" account on your PC and then open the "Email" you want to back up.
Then, select the "Three Dots…" and then click on the "View Message Source".
After that, press "CTRL/COMMAND + A)" together to select the text body.
Then, to copy the text press "CTRL/COMMAND + C)" together to backup Hotmail Emails.
If your browser does not enable you to save a message as an EML file, you can perform the following:
Open a "Plain Text Editor", such as "Notepad", after copying the text.
Click the "New Document" button.
"Ctrl/Command + V" or "Right-Click" the "Document" and select "Paste" to paste your text.
After that, select the "Save As" option.
Name your file and include the.eml extension before clicking "Save".
If the above-mentioned procedure is too difficult to backup data from Hotmail. then, you can follow the second option.
Method 2: Copy Emails From Hotmail One By One
By following this method you can back up all your Hotmail emails one by one. Well, to proceed with this process, follow the steps given below.
Login to your "Hotmail Account" on your local system to backup Hotmail Emails.
Then, open "Email" and click on the "More Actions (Three Dots" option.
After that, to save email messages from hotmail, hit on the "Save" button.
Recover the resulting email from the hard drive's Downloads folder.
Repeat the previous steps to back up another Hotmail.com email.
Method 3: Export Data From Hotmail
Follow the below-mentioned steps to export the mailbox from the Hotmail account
After, signing in "Hotmail Profile" click on the "Gear" icon to select "Settings".
Then, under the "Settings" option click on the "General" >> "Privacy and Data".
After that, hit the "Export Mailbox" button to start the process to backup Hotmail Emails.
Now, you can see the backup process is in progress and this process takes 4 to 5 days. so, you need to wait until to receive the "Download Link" email.
Here all the methods are end.
Quick and Fast Steps: If you don't want to lose your Hotmail data and don't want to face any type of hassle. Then, you can use the Hotmail Backup Software. This is the best and most reliable utility to take backup Hotmail emails in multiple formats such as PST, MBOX, EML, MSG, HTML, PDF, etc.
Go with the below-mentioned steps to start the automatic process.
Step 1: Download and Run the Software
Step 2: Choose "File Format" as per your need.
Step 3: Apply "Data Filters" to choose data.
Step 4: Finally, click on the "Start" button.
Time to Wind-up
In this technical tips guide, we told you how you can backup Hotmail emails very easily by following the free steps. We have also described some reasons and other information related to this task which will help you a lot in understanding this task.