How to Convert MBOX to EML Files for Free?
The MBOX is a file format that is used to store multiple email messages in a single file. Nowadays, the MBOX format is the most widely used mailbox format. Once you can lose the MBOX file, all the emails stored within the file are lost. Numerous users want to convert MBOX to EML so as to get each email message in an individual file. Through this blog, we will guide you along the methods to convert MBOX files to EML using free methods.
MBOX vs EML
MBOX stores multiple email messages in a single file, on the other hand, EML only stores a single email in one .eml file.
MBOX file format is the most popular mailbox format supported by several email applications like Eudora, Mozilla Thunderbird, Apple Mail, and others. In comparison, although many more email applications support the EML format, it is not actively used to store emails [having a mailbox that stores multiple emails is preferred].
Furthermore, the format of an EML file makes it very easy to open in text editors and browsers.
Because both EML and MBOX files apply to a wide range of email clients, there are some email clients that support both. For example – Mozilla Thunderbird, SeaMonkey, Apple Mail, etc.
We will be using the free Mozilla Thunderbird application to showcase two free methods to convert MBOX to EML file format.
Manual Methods to Export MBOX to EML for Free
There are two solutions to convert MBOX to EML file.
Using Save as option
Using ImportexportTools Add-on
Note: Its important to note that both these free methods require Mozilla Thunderbird to execute. It is a free email client so if your MBOX file is not connected/visible in Thunderbird, then kindly import MBOX to Thunderbird before proceeding with these methods.
Method 1: Convert MBOX to EML using "Save as" option
This is an in-built function that is easy-to-use, safe and useful. It allows you to convert selective emails into .eml file format. Let's have a look:
Firstly, Open Thunderbird on your system.
Secondly, click on the email folder for conversion.
After opening the mailbox folder, select all the emails you wish to save as EML.
Right-click on any of the selected email messages.
Select Save As… from the drop-down menu and click it.
On the screen you see a popup message, Choose the desired location to save your EML file.
After that, press the Save button.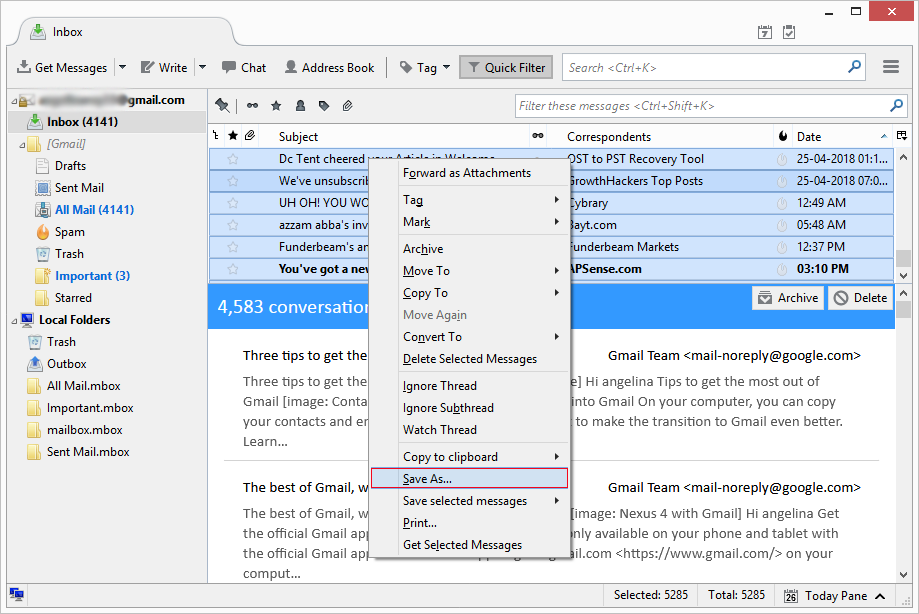 This method saves the message as.eml. This file contains the attachments also. Users must manually create folders and save emails in them to maintain folder structure.
Also Read: How to Convert MBOX to PST File?
Method 2: Using ImportExportTools Add-on
Mozilla Thunderbird is capable of extending its functionalities with the help of add-ons. One such add-on is the ImportExportTools NG. This add-on option allows converting MBOX emails to EML format. It lets you select particular emails and also allows you to export all the messages in a folder in bulk. Download the add-on and export MBOX emails to EML files easily.
If you previously imported the MBOX file using the ImportExportTools add-on, you can skip the add-on installation steps and directly move to the "Save emails as EML" step.
I. Install Add-on
Open Thunderbird.
Then, press on Tools from the menu bar, press Add-ons.
Note: You couldn't find the menu bar while using Thunderbird versions released in November 2010 or later. If you cannot find the menu bar, you must press the ALT key.

Search for ImportExportTool in the search bar.

Find and download the ImportExportTools NG add-on for the email client.

It appears as a pop-up tab for Add ImportExportTools NG? Add.

After adding the tool to Thunderbird, click the Restart Now tap to restart it.
II. Save emails as EML
Right-click on the folder you wish to export when Thunderbird relaunches.

Choose ImportExportTools NG >> Export all messages in the folder and press EML format.

Now, select the folder where you want to save the email by clicking on Select Folder.
That's it!! You have successfully exported MBOX files in EML format on your computer. You can now open EML files on your system with supported applications.
The Disadvantages of the Manual Methods
The free method to export MBOX to EML has only a few drawbacks:
You can export the contents of one folder at a time to EML.
Thunderbird is a must to carry out these two methods.
It does not maintain folder hierarchy.
Final Words
In conclusion, there are numerous methods for converting MBOX to EML. This blog demonstrates two manual methods. The user can choose any of them depending on their requirements, but they require an external application to carry out these methods.